Pictures
Purchase now
You can buy your FISCON Bluetooth handsfree directly from us.
Use our comprehensive Service offers which are available for all customers who bought directly at our shop.
Price:
299.00€ incl. 19% tax
251.26€ excl. 19% tax
Customers outside European Union don´t need to pay German tax.


Recommendation
Visit our Website for Multimedia, DVB-T, DVD, iPod, USB, HDD, Reverse Camera.
With our product IMA-Box you can integrate multimedia devices completely into your Seat Media System-E Navigation System.
FISCON Plus for Seat Exeo with Media System-E
Description of Functionality
With a FISCON Plus Bluetooth handsfree, the navigation system Seat Media System E allows for these functions:
Vehicle Integration
Full integration into the navigation system with MMI logic.
Displays Data on the FIS-Screen.
Menu-driven operation
Establish, accept and end calls. Mute, regulate volume and numerous setup functions. Everything is operable with the existing buttons of the vehicle
Voice output through the vehicle speakers. With distinguished sound quality, no installation of additional speakers is necessary.
Uses the amplifier of the car for speech and music. OEM soundsystems are supported.
Operation via the buttons on the multifunction steering wheel (where available).
Usage of the ring-tone of the cellphone

*1

on the vehicle speakers.
Automatic usage of the languages English, German, Spanish, French, Italian, Dutch, Portuguese. A lot of other languages are partially supported.
All original functions of the vehicle remain unaffected.
| | |
| --- | --- |
| *1 | If supported by the cellphone. |
Telefonfunktionen
Synchronisation of the phonebook with names and numbers.

*1

Access to call lists, including dialed, accepted and missed connections.

*1

Shows incomming calls automatically with name synchronisation of the phonebook

*1

. Option to accept or decline a Call.
Up to 5 cellphones can be paired.
Digital sound processor with echo and noise depression.
Adjustable microphone amplification to optimize voice quality.
Alphabetic search of phonebook records.
Display of the phone provider and signal strength.

*1

Mailbox recallable from Navigation system.
| | |
| --- | --- |
| *1 | If data are supplied by the cellphone. |
Infotainment
A2DP audiostream via Bluetooth, for playing music stored on the cellphone and internet radio through the vehicle sound system.

*1

AVRCP controls the phone MP3 player with the buttons of the vehicle.

*1
| | |
| --- | --- |
| *1 | A2DP or AVRCP must be supported by the cellphone. |
Hardware, Installation, Maintenance
Plug&Play Adapter included.
Uncomplicated installation. No cutting of wires necessary.
Residue-free removable.
Option for software updates.
Updates for phone compatibility can be installed via bluetooth with a Windows Notebook or Android Device.
Standby power consumption is under 0,1mA (<0,0012W) Watt at 12V.
ODB2 diagnostic with e.g. VCDS or VAS possible. It shows informations like software levels and product version. If required a factory reset can be done.
The installation does not cause any records in the error-log of the car.
---
Car Compatibility
The display in the FIS screen and the operation with the buttons on the multifunction steering wheel are working on this vehicles:
Fahrzeuge
Seat Exeo
The integration into the navigation system is independent from the vehicle and is also feasible in vehicles where the navigation system was not integrated from factory.
Function comparision based on vehicle configuration
---
Recommended Accessory
With these products you can ease the installation:
---
Displays Navigation System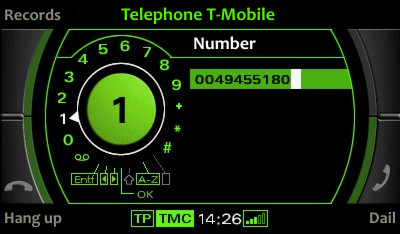 Dialing - Telephone Number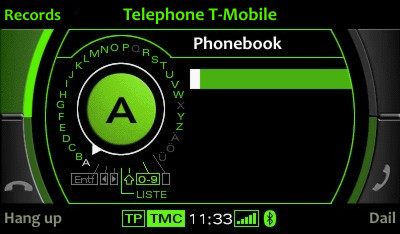 Dialing - Select Names in the Phonebook
Dial - Select Phonebook Records
Incoming Call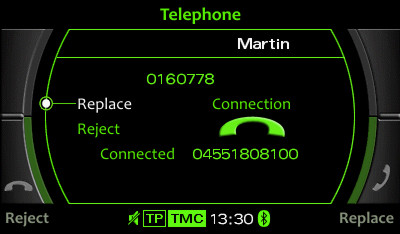 Incoming Call - while on another call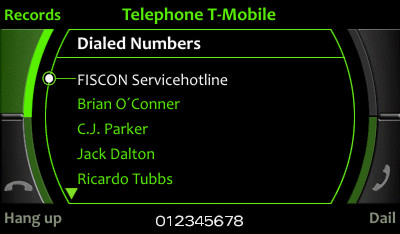 Call List - Dialed Calls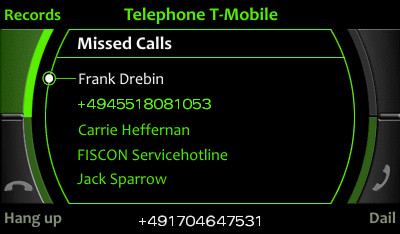 Call List - Missed Calls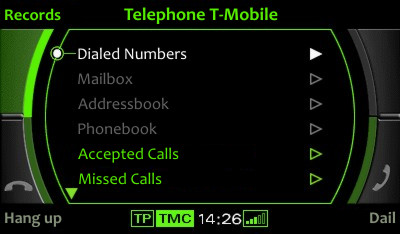 Menu Structure
Configuration of the Cellphone
Configuration of the Cellphone
Displays FIS-Screen